Hai girls!!
Haha. Nak juga buat Giveaway (GA) kan. Asyik aku je join giveaway uolls.. Nak juga aku buat giveaway. Motif?? Well.. macam entry sebelum ni, ada preloved item nak di let go. Tapi, nak buat item2 tu sebagai hadiah melalui GA ni. Jadi GA pertama aku ni dinamakan
COLOR BLOCK YOUR OUTFITS!
Idea GA color block ni datang secara tiba2. So harap ada blogger yang akan join. =)

Color block memang cantik! Aku suka sangat yang colorful2 ni. Tapi jangan simply combine color. Salah combine nanti akan kelihatan lain macam pula. Jom kita tengok gadis2 cantik di bawah ni menggayakan color block.
turban style. paling suka yg ke-3 dari kiri, kombinasi warna lavender & aqua.
photo credit to en.paperblog.com


paling cantik yg tengah2. kombinasi warna pink, fuchsia, orange & peach.
photo credit to fashiondujourdaily.wordpress.com


aku pilih yang paling kiri! kombinasi orange, purple & teal.
photo credit to fashionnetworkseattle.com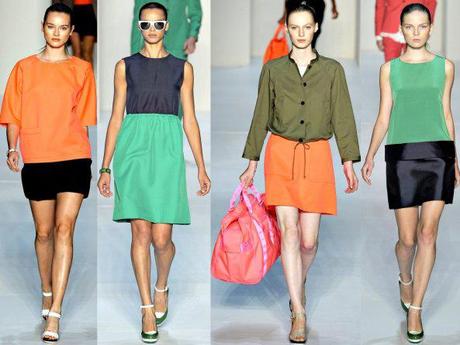 paduan 2 warna.
photo credit to en.paperblog.com
kasual.
photo credit to examiner.com
SYARAT
1- Follow BLOG ini | like ENTRY ini | like FB PAGE | follow TWITTER.
2- Buat satu entry blog bertajuk "GA by Alya Syaqiera: COLOR BLOCK YOUR OUTFITS!".
Tag 5 atau lebih rakan blogger anda (pastikan mereka tahu ya!).
3- Letakkan gambar banner di bawah dan link kepada entry ini sahaja.
(cara copy banner: drag banner ke search tab> right clik pada banner> copy image)
4- Attach satu atau dua gambar uolls pakai color block outfit & keterangan mengenai gambar. Kalau tak ada gambar, silalah ambil gambar. =)
5- Copy & paste link entry tersebut pada ruangan komen entry ini. Sertakan bersama:
nama FB anda (kalau tak ada akaun FB, tak mengapa. masih bleh join if anda adlh BLOGGER)

measurement anda
6- Pemenang akan dipilih berdasarkan gambar yang paling menarik, kreatif & menepati tema.
7- Penyertaan tamat pada 20 Dec 2012 jam 11.55pm.
HADIAH
Tempat pertama
Preloved Zigzag kurung blue color (Payless Kiosk)
Measurement :
Top - Free Size (fit up till small L) Shoulder - 38CM,Sleeve - 58CM,Bust - +84CM, Length - 77CM
Bottom - Free Size (fit up till L) Length 98CM, Waist 60CM (Min) 85CM (Max)
Tempat kedua
Preloved Long sleeve cardigan blue color with satin ribbon (Free Size)
Tempat ketiga
Oversized clutch black color (Avon)
Blog dimasukkan dalam blog list alyasyaqiera.blogspot.com
Ok. Alasan untuk hadiah preloved di atas. Zigzag kurung terlalu fit dan mengikut badan. Tak pernah pakai langsung. Baru je beli. Long sleeve cardigan pula hanya pakai sekali sahaja dan warna macam tak kena dengan aku. And last sekali oversized clutch masih dalam plastik lagi. Actually aku ada dua. So give out satu untuk GA ni.
Kalau ada hadiah lain, aku akan update kemudian! =)
Bagaimana memakai color block? Here are some reference girls! Cekidaut!! :D



p/s: Gambar2 hadiah akan diupdate kemudian. =)